FAFCC Annual Conference
What is the FAFCC Annual Conference?

FAFCC annual conference brings together executive directors, clinical coordinators, developmental staff, volunteer providers, and board members of member clinics across the staff. Attendees participate in breakout sessions related to trending topics within the free and charitable clinic sector, interact with healthcare vendors and FAFCC partners, and the opportunity to network with other free and charitable clinics across the state.
---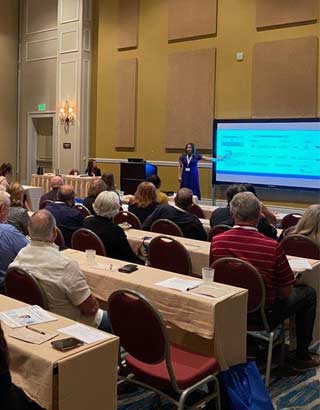 Keep checking back for more updates!
If you have any questions or concerns regarding the Annual Conference, please contact christina@fafcc.org
---

What Our Members Say
Pamela Lusi
Executive Director, Community Dental Clinic
"The FAFCC Annual Conference delivers rich content and a great forum for networking with key resources throughout Florida. Over the last four years, the excellent programming and dash of fun have made this event a highlight for me as a new director in the nonprofit sector. Thank you, FAFCC, for the stellar support!"
Sandra L. Barry
Executive Director, Light of the World Clinic Inc.
"I have had the pleasure of attending many of the FAFCC Annual conferences. Since the conference was initiated many years ago, it has been wonderful to see our FAFCC Association grow. I throughly enjoyed participating in as many scheduled events as possible, with many of my FAFCC member colleagues. From the opening session, to the professional breakout sessions, hearing the keynote speaker, and closing with the final session all are great experiences."